Professional Print Design = More Business Revenue!
Create a presence, with eye-catching Print Design for your Marketing Materials.
When creating a company, marketing your business services is crucial.  At the Online Design Club, we offer a wide variety of Print Design Services so that your business has professional marketing with excellent design.  Professionally designed marketing services can set your company apart from the competitors. Our team of 50 Graphic Designers are highly qualified and specialize in creating Print Design for businesses that will leave a lasting impression. We have worked with over 12,000 clients and would love to provide your company the Best Print Design Services in town! We also offer unlimited design revisions and work until you are 100% satisfied.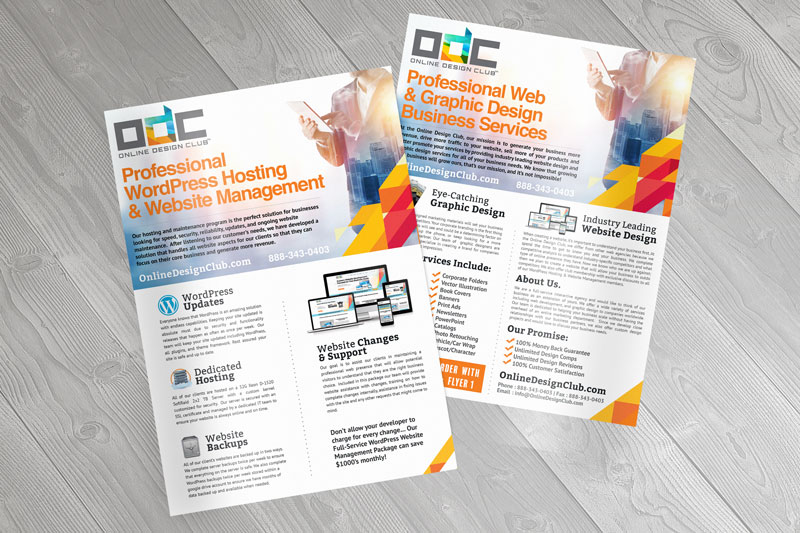 Our Print Design Services Process
Complete Design Request
Once you have completed and sent in your print design questionnaire, your Project manager will let you know when your first set of several design concepts will be delivered.
Design Presentations
You will receive several initial design concepts, each one crafted in a unique way, containing the corporate instruction provided in your questionnaire.
Graphic Design Feedback
Once you have let us know what design you like best and provided feedback, we will send 4-6 more designs within one business day based on your design direction.
Final Graphic Design Files Delivered
Once you have approved your design and are ready for the final files, we will deliver them in final format (Ai, PSD, HTML…) including font files needed for future use.