Custom Magazine Design.
For Monthly Print or Digital Publication.
We provide full-service Professional Magazine Design services to clients that are looking for the best design in the industry, at an affordable price. All of our magazine design projects include unlimited design comps and revisions. We work until your magazine is pixel perfect and ready for print or online publication. Contact us to get started now.
Why choose us as your magazine design company?
We have an on-staff team of 50 graphic designers and have worked with clients to help them grow their companies by providing a cost-effective solution to a time-consuming profession. Having an in-house magazine design team would cost hundreds of thousands of dollars per year. With our Magazine Design Projects, we design every single aspect of your magazine for one low price, each month.
Grow Your Magazine, Not Your Payroll.
Now that you have the hard part complete, it allows you to focus on growing your magazine and quality content. Everyone knows that with amazing content, eye-catching graphic design, and good advertisers, a magazine can be a very successful business.
Trusted by the Industry Leaders.
Don't just take our word for it, we are partnered and certified by the largest publisher of online magazines, ISSUU.com. Our staff at Online Design Club is very proud to have our company chosen as an official Magazine Design partner.  They have hand selected some of the best Magazine Design Agencies to showcase for people looking for this service, and we made the list.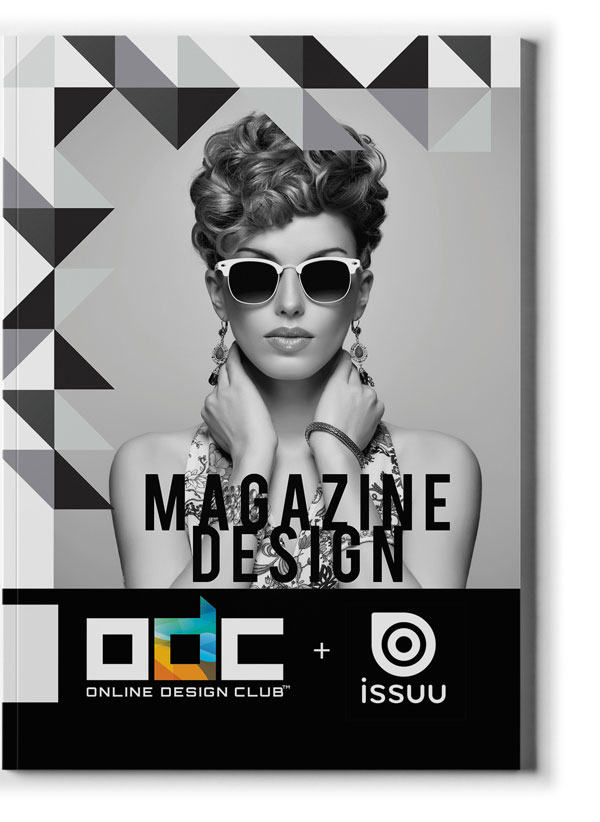 Let's Talk About Magazine Design: 888-343-0403
Online Design Club is an Official Design Partner of ISSUU
Issuu is the world's largest digital discovery and publishing platform, attracting more than 100 million unique visitors per month. Issuu enables anyone — from independent creators to global brands — to share, measure and monetize their editorial, catalog or marketing content. Issuu, founded in 2006, is headquartered in Palo Alto, with offices in Copenhagen, Berlin, and New York City. For more information, please visit: www.issuu.com.

Want to Design Your Own Magazine?
If you're not looking to have us design a custom magazine, our partner, ISSUU offers the perfect solution for digital magazine publication. Enjoy 10% off ISSUU's World-Class Publisher Tools.

Our Magazine Design Service Process
Complete Design Request
Once you have completed and sent in your magazine design questionnaire, your Project manager will let you know when your first set of several design concepts will be delivered.

Design Presentations
You will receive several initial design concepts, each one crafted in a unique way, containing the corporate instruction provided in your questionnaire.

Graphic Design Feedback
Once you have let us know what design you like best and provided feedback, we will send more designs within one business day based on your design direction.

Final Magazine Design Files Delivered
Once you have approved your design and are ready for the final files, we will deliver them in the final format ready for print.